Roca runs the nation's largest Pay for Success (PFS) project to date. The Massachusetts Juvenile Justice Pay for Success Initiative improves the lives of about 1,000 young men, while reducing crime, promoting safer communities and saving taxpayer dollars.
What is Roca's PFS project?
The Massachusetts Juvenile Justice Pay for Success Initiative (PFS) is a $28 million partnership between Roca, the Commonwealth of Massachusetts, the intermediary Third Sector Capital Partners and a host of private investors.
Through the project, Massachusetts criminal justice agencies refer high-risk young men to Roca on a monthly basis, and Roca's success in reducing incarceration and increasing employment with these young men is measured by an external evaluator. The private funders cover 85% of Roca's costs and assume most of the financial risk upfront, and they would be repaid by the Commonwealth only if the projected incarceration reduction outcomes are met.
How does the project work?
Massachusetts criminal justice agencies refer over 1,000 high-risk young men to Roca over a period of five years (2014-2019). These young men will be engaged in Roca's Intervention Model, which is designed to help this specific group stay out of jail and go to work.
Given the high cost of incarceration ($55,000/year per person) and Roca's demonstrated success in reducing re-offending, the project's financial benefits for Massachusetts residents are expected to be substantial. At the project's target impact of reducing incarceration by 40% the project would generate $21.8 million in budgetary savings, and at a 65% reduction the project would generate $41.5 million in gross budgetary savings.
Who takes part in Roca's PFS project?
In addition to Roca, the Commonwealth of Massachusetts and Third Sector Capital Partners, the partners in the PFS project include the lenders Goldman Sachs (through its Social Impact Fund), The Kresge Foundation and Living Cities; the philanthropic grantors Laura and John Arnold Foundation, New Profit Inc. and The Boston Foundation; the evaluators Urban Institute and Abt Associates; and the validator Public Consulting Group. Roca and Third Sector Capital Partners have deferred part of their service payments, thus serving as funders of the project as well.
The criminal justice agencies referring young men to Roca include Probation, Parole, Sheriff Departments, the Department of Corrections and the Department of Youth Services.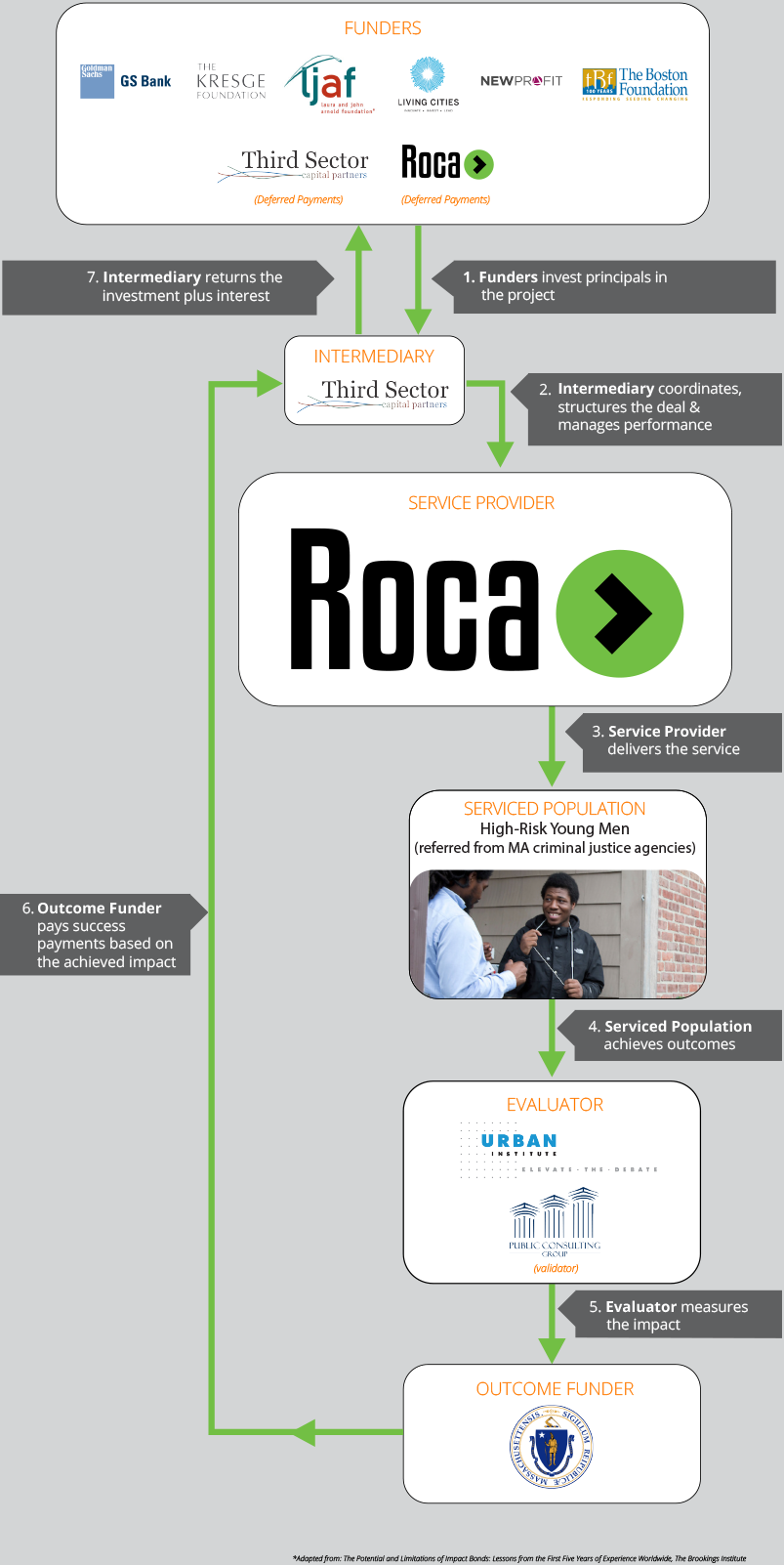 How is Roca doing so far?
Since starting in January 2014, over 500 young men were referred to Roca. They are served in the organization's sites in Boston, Springfield, Chelsea and Lynn. The partners have addressed start up issues that included streamlining state referrals, information sharing and inauguration of two new Roca sites (Boston and Lynn).
As Roca's Intervention Model is four years long, the project's first actual outcomes and first success payments are not expected until 2018. However, Roca's internal tracking shows that Roca's performance meets the projections: at the two year mark, overall retention rate was 73% (planned: 70%), attrition to incarceration was almost at plan (actual: 19; planned: 17), and overall attrition was lower than expected (actual: 74; planned: 78).
What else is important to know about PFS?
Pay for Success, also known as Social Impact Bonds, is an innovative structure for government, private sector and nonprofit partnerships. It enables the government to pay for programs only once positive social outcomes are achieved; provides investors with an opportunity for financial investment that directly benefits society; and supports growth of nonprofits that offer promising social solutions.
PFS initiatives address a range of social challenges, including education, health, employment, criminal justice and welfare. They started in the U.K. in 2010, and were first implemented in the U.S. in 2013. Outcome-based funding in general, and PFS in particular, is considered the cutting edge of nonprofit and social services funding.
To date, Roca's PFS project is the largest PFS initiative in the U.S.