Serving over 140 young mothers from Chelsea, East Boston, Revere, Everett, Malden and Somerville, disrupting the cycle of violence and poverty.
High-Risk Young Mothers
| | |
| --- | --- |
| | 16-24 year-old |
| | Single mothers |
| | Gang and street involved |
| | Drug and alcohol use |
| | Involved in the justice system |
| | Suffer from violence and trauma |
| | High school dropouts |
| | No employment history |
Roca's Intervention Model
Roca's Intervention Model was adapted to help high-risk young mothers get out of violence and poverty, go to work and care for their children. Through relentless outreach, tailored programming and collaboration with community partners Roca helps young mothers transform their lives and create better future for their children.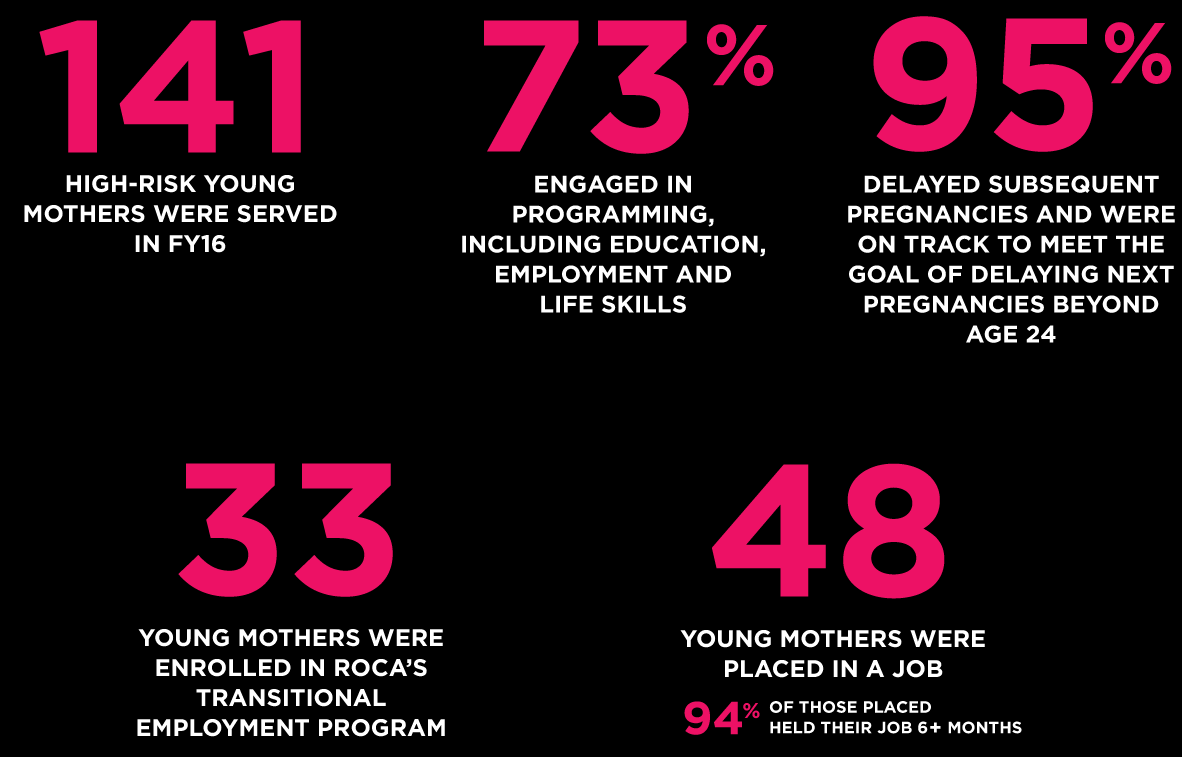 Zulma
Participant, Young Mothers' Program, Chelsea
When Zulma sits at her desk at the Department for Capital Asset Management and Maintenance (DCAMM), working on the scanning project she was hired to do, it is a powerful reality that she has come a long way. For the last six months Zulma has held this same steady job which has allowed her to support herself and her two children. She has grown professionally, and socially as she learns to speak up more and enjoy her time with her co-workers. This is not the life that Zulma was living before.
Zulma came to Roca 2 years ago to gain independence from her overbearing partner. She wanted a life where she was able to make her own money and choose how to take care of her children. She did not have her GED, she was in a challenging, sometimes violent relationship. This was a drain on her energy and she struggled to maintain a job. Eventually, she became connected with her youth worker Patricia and Roca. At first, Zulma had a difficult time showing up for the program. She felt intimidated at what she was being asked to accomplish and felt like she couldn't do anything. 786
Read More
"I learned to look for the people who can help me. Now I know everyone, I know who to talk to if I need help"
— Zulma
Gina
Staff, Young Mothers' Program
Gina Josette works with the Young Mother's program at Roca. She wears a lot of hats as a Program Coordinator, Youth Worker and Educational Development team member. Right now, she spends a good deal of her days putting out fires, helping participants in Roca's High Risk Young Mothers Program to address situations in their lives that make long term stability difficult for themselves and their children. When she is not firefighting, Gina is constantly coming up with and implementing ideas of how to prevent crisis, how she can help to create programming that mitigate risks for the young women she works with.
Gina said "I want to be the person I wish I had when I was young, I think I saw that graffiti on a wall or something but it is true, I always think about that." She considers her role at Roca to be someone the participants will know is there for them without judgment. She thinks it's important to not just be a mentor but to help be a translator to a world a lot of the young women didn't even know existed before Roca, a translator to a life without violence and poverty, a translator to an education they might not have thought possible before and a translator to a better life. 784
Read More
"I want to be the person I wish I had when I was young, I think I saw that graffiti on a wall or something but it is true, I always think about that."
— Gina Josette