Roca values and promotes transparency with our young people, with our partners and with our funders.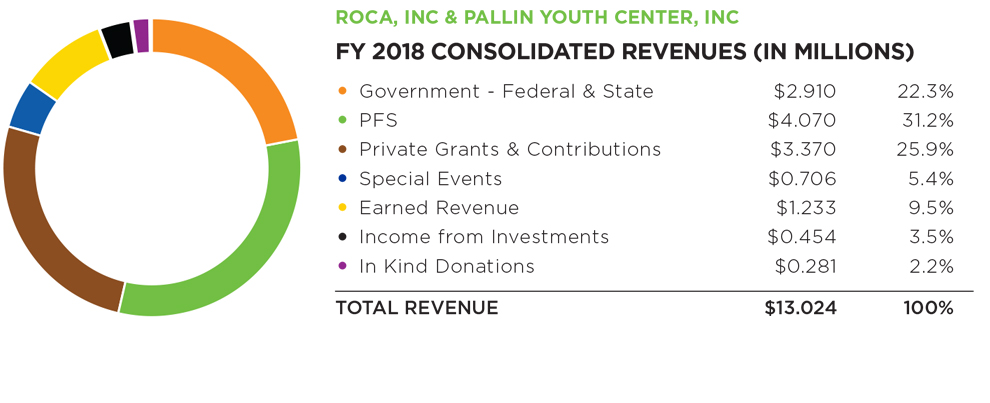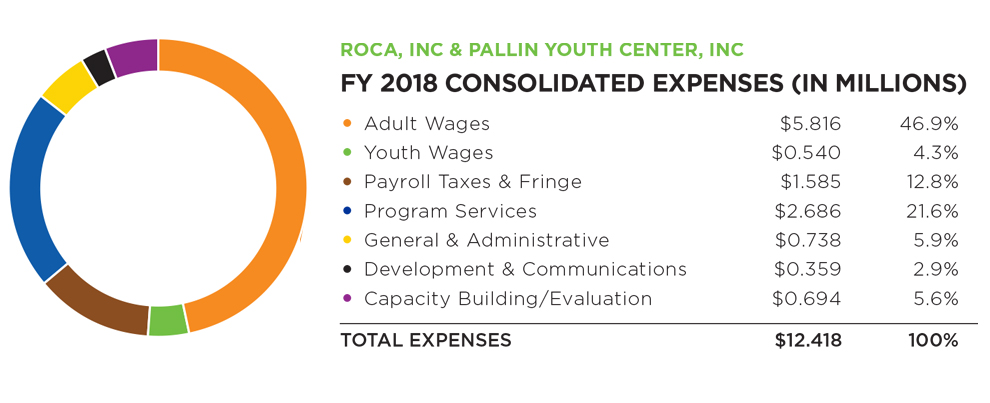 * The selected financial information as presented represents the results of the combining operations of Roca, Inc. and Pallin Youth Center, Inc. Pallin youth Center is an affiliated not-for-profit corporation of Roca, Inc. and shares a common Board of Directors. Pallin Youth Center was formed in 1996 as a 501(c)(2) of the Internal Revenue Code for the sole purpose of holding title to property. Combining statements is required under Generally Accepted Accounting Principles.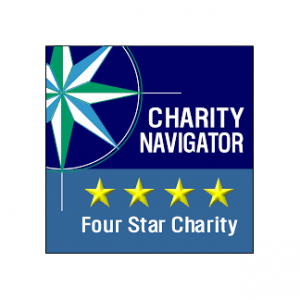 Roca runs the nation's largest Pay for Success (Social Impact Bonds) project. Pay for Success is an innovative structure for government, private sector and nonprofit partnerships.
We are deeply grateful to all our funders. Because of the generosity of our supporters, we are able to help young people change their lives. We have included below donors who have given $1,000 or more in Fiscal Year 2018. For the full list of all FY18 Donors, see the Annual Report.
$1 Million +
The Abell Foundation*
The Annie E. Casey Foundation*
BGE (Baltimore Gas and Electric)*
Brown Capital Management, LLC*
City of Baltimore*
Exelon Corporate*
The Harry and Jeanette Weinberg Foundation*
The Laura and John Arnold Foundation*
Massachusetts Department of Public Health (Adolescent Sexuality Education Program)*
Massachusetts Executive Office of Public Safety and Security (SSYI)*
MassMutual*
T. Rowe Price Foundation*
The Whiting-Turner Contracting Company*
Youth Services, Inc **
$100,000 – 999,999
Anonymous Foundation*
Bank of America Charitable Foundation*
Barr Foundation*
City of Chelsea
City of Salem
The Devonshire Foundation*
France-Merrick Foundation*
The Klarman Family Foundation*
The Kresge Foundation*
The Leonard and Helen R. Stulman Charitable Foundation*
Massachusetts Department of Children and Families*
Massachusetts Department of Conservation and Recreation
Massachusetts Department of Public Health (MPPTI)*
Massachusetts Department of Public Health (Substance Abuse Prevention)*
The Peter and Elizabeth C. Tower Foundation*
REDF*
State Street Foundation
United Way of Massachusetts Bay and Merrimack Valley*
US Department of Justice Office of Juvenile Justice and Deliquency Prevention**
Vertex Pharmaceuticals, Inc.*
W.K Kellogg Foundation*
$10,000 – 99,999
Adobe Foundation
Amelia Peabody Foundation
H.F. Baldwin
Beacon Communities, LLC
Bennett Family FoundationBerkshire Bank Foundation*
Beveridge Family FoundationBoston Consulting Group
The Boston Foundation
Margie Bride and Terry McEnany
Holly and David Bruce
Susan Okie Bush
Bushrod H. Campbell and Adah F. Hall Charity Fund
The Charles Hayden Foundation
City of Boston, Mayor's Office of Workforce Development (CDBG)
City of Chelsea, Chelsea Public Schools
City of Chicopee
City of Everett
City of Everett, Everett Public Schools
City of Holyoke
City of Malden
City of Revere
City of Somerville
City of Springfield
City of Springfield, Office of Community Development (CDBG)
Clayton Baker Trust
Howard Cohen and Myra Musicant
Dalio Foundation
DevelopSpringfield
Donii
Downtown Partnership of Baltimore
East Boston Foundation
Eastern Bank Charitable Foundation
Executive Office of Labor and Workforce Development/Commonwealth Corporation
Fidelity Investments
Frank Reed and Margaret Jane Peters Memorial Fund*
Gagliarducci Construction
Gisela B. Hogan Foundation*
Goldman Sachs
Goulston & Storrs
Mark and Jeanne Haggerty
Barbara and Amos Hostetter
The Irene E. & George A. Davis Foundation*
Beth and Jake Jacobs
Joanna Jacobson
James W. Rollins Charitable Trust
Jane's Trust
The Janey Fund
John Hancock
Al Kaneb
Stephen and Andrea Kaneb
Kargman Charitable & Educational Foundation
Keith Construction
Christine and Will Kendall
Lewis Family Foundation
Liberty Mutual Foundation*
Gwen R. Libstag
Lovett-Woodsum Family Charitable Foundation*
Dan Lyons
Mabel Louise Riley Foundation
Massachusetts Environmental Police
Massachusetts Executive Office of Public Safety and Security (Metropolitan Mayor's Coalition/Shannon Grant)
Massachusetts Water Resource Association
Massachusetts General Hospital and Partners HealthCare
Shamus McBride
The MENTOR Network Charitable Foundation
The Nordblom Family Foundation
Patriots Foundation
Penguin Random House
Frank R. Peters Trust
Porticus Foundation
Rockport Mortgage Corporation
Roy A. Hunt Foundation*
Santander Bank
Sarah W. Rollins Charitable Trust
Sills Family Foundation
Springfield Housing Authority
TD Charitable Foundation
The TJX Foundation
Greg Torres and Betsy Pattullo
The William Randolph Hearst Foundation
The Winter-Lehman Family Foundation
Work'N Gear
Yawkey Foundation II
$1,000 – 9,999
Adelard and Velada Roy Foundation
AGC Partners
Geraldine Alias
AnonymousAon Risk Solutions
The Architectural Team, Inc.
The Aspen Institute
Ayers Saint Gross
Molly Baldwin
Balise Motor Sales
M. Barusch and Greg Price
Jeffrey Bayard
Ted Bayne
Nancy Benchoff
Myra Berges
Jon Biotti
Boston Private Bank & Trust Company
Theresa M. Bresten
Brown Advisory
Brown Rudnick Charitable Foundation
Bunker Hill Community College
Janet Callahan
Canadian Association of Chiefs of Police
Carbone Sheet Metal Corporation
Stewart and Patricia Chapin
Chelsea Housing Authority
Cove Shoe Company
Robert A. DeLeo
Demoulas Foundation
Carla DeSantis
The Paul Doherty Family
DoubleTree by Hilton
Michael Dunn
East Boston Savings Bank Charitable Foundation
Lili Elkins
Ellen Abbott Gilman Trust
Jennifer Engel
Equity Resource Investments
Family & Children Service of Greater Lynn
Matthew Feinberg
Sonya and Karl Feitelberg
First Church of Christ – Longmeadow
First Parish of Arlington Unitarian Universalist Church
Fitzgerald, Attorneys at Law, P.C.
Fitzgerald & Company, Inc.
Ashley Fontes
Frederick C. Lutze and Christian Rausch Family Foundation
Frederick H. Bedford Jr. and Margaret S. Bedford Charitable Foundation
Emily Freedman
Bonnie Friedman
John Gallagher
Gardiner Howland Shaw Foundation
Sophie Godley
Golden Cannoli
Lindsay Gordon
The Gouchberg Charitable Foundation
Amy Gould
Will Graylin
David Greenberg
Sarah and Josh Greenhill
The Hanover Insurance Group
Harbour Food Service Equipment
Harvard Pilgrim Health Care
Annie Hildreth
Robert and Diane Hildreth
Hoke Realty, LLC
Daniel Holland
The Hyams Foundation
Daniel S. Hyman
Angie Janssen
Meghan Joyce
Harold Kalick
Kayem Foods
Kettle Cuisine
Candace C. Kidston
Koya Leadership Partners
Peter O. Lawson-Johnston II
Charlotte Lord
Richard Lyman
MacKenzie Vault
Hiren Mankodi
Sara Martin
Massachusetts Department of Industrial Accidents, Office of Workplace Safety
Massachusetts Division of Capital Asset Management & Maintenance
MAXIMUS Foundation
Ellyn A. McColgan
Sarah McCrary
Dennis McGurk
Matt McPherron
Eugene Merfeld
MGM
Maggie Moore
Morrison Mahoney LLP
Moses Kimball Fund
Richard J. Murnane
Myles Gordon
Brenda Nagle
Jenny Naylor
Xandra Negron
The Neighborhood Developers
nellie mae Education Foundation
New World Foundation
Newman's Own
Morris W. Offit
Ronald O'Hanley
Robert A. O'Neill
Palmer Paving
Daniel Passacantilli
People's United Community Foundation
Philadelphia Insurance Companies
Andrea Phillips
Piece by Piece Deconstruction
Erna and Bob Place
Pluhar Family Fund
Ray Solem Foundation
Red Sox Foundation
Robert Gilbert, Jr.
Allan Ropper
Carolyn Russo
William Ryan
SEI
Kari and Craig Shapero
Bradley Shapiro
Elisabeth Shue and Davis Guggenheim
John and Jody Shue
The Simon Family Philanthropic Foundation
Social Solutions
Garz Soule
Spencer Foundation
Stephen A. Roberts Landscape Architecture and Construction
Stratford Capital Group
Carl Sussman
Jane Timken
Travelers
USI Insurance Services
Walker & Dunlop
Walsh Brothers, Incorporated
Deborah Wayne
Jed Weiss
Wellesley College
Andrew Wetzel
Wolverine Worldwide, Inc.
Womens Benevolent Society
Yotam Zeira
Steve & Ellen Zane
*Multi-year award or multiple grants
**The MA Juvenile Justice Pay for Success Project is supported by the Commonwealth of Massachusetts Executive Office of Administration and Finance, the U.S. Department of Labor, Goldman Sachs, Inc., Living Cities, the Kresge Foundation, The Laura and John Arnold Foundation, New Profit and The Boston Foundation