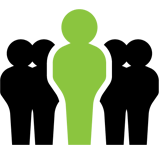 There is no progress without a job.

— Martin O'Malley, Former Governor of Maryland
Hiring a Roca graduate gives a young person a chance. Our young people are trained and ready for work. They need employers who believe in them.
Being a Roca Employer
Roca strategically partners with employers to provide them with entry-level employees. These partnerships create career pathways for our young people. Our program is focused on equipping young people with soft and hard work skills. We teach young people not only how to get a job, but also how to hold a job.
Our young people work hard at Roca until they are ready to be placed with an employer. Despite their criminal records and the many challenges they have overcome, they are ready for the job market. When you hire Roca graduates, you receive hard-working, passionate employees. Your partnership and belief in young people give them a chance to succeed.
To become a Roca employer, please contact Jake Jacobs, Chief Advancement Officer at Jake_Jacobs@rocainc.com or 617-409-3966.

I'm here to say as somebody who is a paying customer of Roca and the folks who work with Roca, to say that we are a very satisfied paying customer and I would urge all the other employers in this room – and I know there are many of you – when you have something you need done, you should start by making sure you connect with Roca and see if you have in mind something they can do.

― Governor Charlie Baker