A Tribute to Greg Torres:
Reflections on a Special Person and an Impactful Life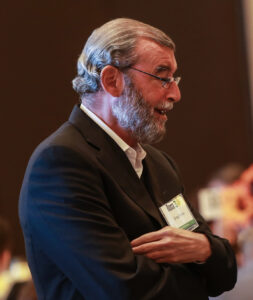 Roca is fortunate to have had the support of so many special individuals throughout our first 35 years, but Greg Torres has consistently stood out based on the caliber of his advice and strategic support, his incredible generosity, and, most importantly, his unwavering commitment to young people and justice for all. We are profoundly sad that we lost Greg last week to cancer.
Greg and his wife Betsy have for decades been great supporters of Roca and incredible advisors to our team. Despite their busy schedules, they have always remained connected to our work and were fixtures at our annual breakfast. Greg had hoped to make this year's breakfast in May—the first time the event was held in person since before the pandemic—but his deteriorating health got in the way. However, nothing about Greg's physical health ever seemed to dampen his spirit or weaken his commitment—to Roca or the many causes and people he remained very much connected to.
After a recent stay in the hospital just a few weeks before his passing, Greg reached out to get an update on developments at Roca. He ended his message by saying, "I have been thinking of you guys." Of course he was. That was so typically Greg Torres.
Below are the individual reflections of several of us at Roca who feel privileged to have known Greg so well. His death is a painful event, but we will cherish our memories of him and all the good deeds and good work he did throughout his remarkable life.
---
Jay Ash, President & CEO, Massachusetts Competitive Partnership, and Roca Board Member
Greg was one of the most effective, never-elected leaders I have ever met. He was smart, but the real secret to his success was the way he built relationships. He invested time in getting to know people, whether it was the person he was trying to help or the leader across the table that he could convince to provide that help. That he had such a magnanimous personality and oozed sincerity helped to draw all of us to him.
I was honored that he invested so much time in me. He was certainly a friend, but also a mentor. I admired his perspective on politics and his ways of getting things done. Most of all, I appreciated that he never had a bad word to say about anyone, and never asked anyone to do something he wouldn't do himself.
I had lunch with him a couple of months ago; just of the two of us for a memorable trip down memory lane. He continued to deflect from his successes, but he couldn't deflect the entire lunch because there were so many to discuss. He was a force at the State House, an enabler of great public policy at MassINC, a champion of those in need of champions at Roca, and a guy who was never shy about talking about the special relationship he had at home with Betsy. Greg encouraged me, as he always did, in his own special way: it's great what you have achieved, but how can you turn those achievements into even greater influence.
It has been amazing talking to others who also feel the loss of Greg. From them I have heard many special reflections, from "he had a big influence on my life," to "we're lucky to have had him in our lives," and "if we use all we learned from Greg to produce good, we might collectively come close to measuring up to him."
---
Molly Baldwin, Founder & CEO, Roca
Greg was a true elder, even when he was younger. He was compassionate, wise, and generous. His heart and belief in people were so powerful that one could believe that hopefulness was something you could actually touch, not just feel. I and all of us at Roca are so grateful for all he taught us and for making us better people. We love you, Greg. Thank you to Betsy and his family for sharing him with us and the rest of the world.
---
Kevin Burke, former Essex County District Attorney, former Secretary of Public Safety, and former Roca Board Member
As much as anyone I am aware of as a former District Attorney and later Secretary of Public Safety over the last several decades, Greg Torres was responsible for significantly improving the quality of outcomes by the criminal justice system. Greg zealously pursued changes in the system at the State House, in the community and with every stakeholder. While he was zealous in his pursuit to improve the quality of justice, he was not a zealot. Through the strength of his character and depth of his commitment, he brought together disparate groups involved with or interested in the justice system. He listened to them all and helped them find common ground on a variety of issues, including juvenile justice and sentencing reform. I witnessed his great personal skills in convincing business and legislative leaders of the value of sentencing reform. His support and advocacy of Roca over the years helped policy makers understand the importance of extending services to high-risk individuals. His vision and leadership will be greatly missed by everyone involved in dispensing justice.
---
Maggie Moore, Treasurer & Director, Roca
Greg Torres was a longtime friend to Roca, and the incredible young people we support. It was an honor for all of us to serve alongside him on the Board, to witness his humble approach and learn from his wisdom. We are beyond grateful to Greg and his family for their service to Roca and beyond, especially his lifelong powerhouse partner, Betsy Pattullo. Greg has always, and continues to, inspire the best in all of us—we will endeavor to make him proud in the years to come.
---
Dwight Robson, EVP of Operations, Roca
I am enormously grateful to have had the opportunity to work with and learn from Greg. I first met Greg in 2003 when I was recruited to The MENTOR Network, a Boston-based company that during his tenure as CEO was transformed from a relatively small human services organization to a premier national provider known for its innovation and quality. Greg was a brilliant, humble leader who was universally respected and beloved.
While Greg accomplished so much throughout his career, I admired him most for the quality of person he was. Over the years when I have considered the type of husband, father, mentor, friend and citizen that I aspire to be, I have often thought of and tried to follow his shining example.
Greg left an incredible legacy through his family and all of the organizations and people—including many overlooked by others—he supported and influenced. I have never known someone who has given so much of his time and treasure, while shunning any credit or recognition, as was his modus operandi.
Greg was also a great connector of people. During our time working together at MENTOR he introduced me to his friend Molly Baldwin and asked if I would consider helping support the special work of the organization she founded, Roca. I have remained connected to Roca ever since, including serving on its Board for many years and more recently as a member of its management team.
Greg Torres departed this world having left one hell of a mark. I consider myself lucky to have known him and will always be grateful to be able to call him a friend.