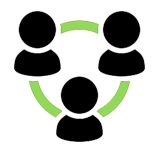 Roca offers a fast paced, innovative workplace where learning, personal experience, leading with values, and having deep faith that change is possible, are essential to achieve bold goals for our young people.
We are looking for self-motivated, compassionate, perseverant individuals who can work closely with team members, supervisors and others within the organizations to ensure that each young person has the opportunity to change their life.
Roca Boston, MA
Roca Lynn, MA
Roca Springfield, MA
How to Apply
To apply please email, in a PDF format, your resume accompanied by a thoughtful cover letter to Jennifer Murray at HR@rocainc.com. Please include the position title in the subject line.
*please do not send hard copies of materials.
Gina
Staff, Young Mothers' Program
Gina Josette works with the Young Mother's program at Roca. She wears a lot of hats as a Program Coordinator, Youth Worker and Educational Development team member. Right now, she spends a good deal of her days putting out fires, helping participants in Roca's High Risk Young Mothers Program to address situations in their lives that make long term stability difficult for themselves and their children. When she is not firefighting, Gina is constantly coming up with and implementing ideas of how to prevent crisis, how she can help to create programming that mitigate risks for the young women she works with.
Gina said "I want to be the person I wish I had when I was young, I think I saw that graffiti on a wall or something but it is true, I always think about that." She considers her role at Roca to be someone the participants will know is there for them without judgment. She thinks it's important to not just be a mentor but to help be a translator to a world a lot of the young women didn't even know existed before Roca, a translator to a life without violence and poverty, a translator to an education they might not have thought possible before and a translator to a better life. 784
Read More
"I want to be the person I wish I had when I was young, I think I saw that graffiti on a wall or something but it is true, I always think about that."
— Gina Josette