No young person is too tough for Roca, even if they have lost all trust and hope for the future. Roca never gives up on addressing the trauma and urban violence impacting the hardest-to-reach young adults in our communities. They can count on us to keep showing up, even during setbacks. That's how we build trust over four years and give young people the tools and support to change the trajectory of their lives.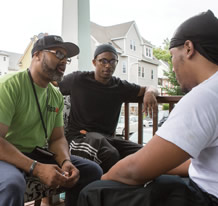 START WITH THE HEART
Trauma is fear, so we start by providing safety and stability. We find young people at the center of violence and show up at their door—and we keep showing up every day until they open up.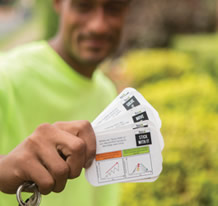 REWIRE THE BRAIN
Trauma keeps young people stuck in survival mode, so they keep repeating the same negative behaviors. Roca's cognitive behavioral theory (Rewire CBT) skills heal trauma by building new neural pathways.
They're real consistent, and always push me down the right path. It's nice knowing someone out there cares. A lot of us grew up in a [messed] up lifestyle and no one cared about us. Roca shows that they actually do."
—Derrik, Roca Chelsea Participant
I use CBT every day because it helps me with self-control. I used to be the kid that would get mad about everything. But the other day, someone said something about a gang I was in, and back in the day I would have fought him. But now I know it's not worth it."
—Luis, Roca Springfield Participant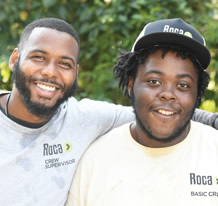 PRACTICE RELENTLESS PATIENCE
Relapse is a crucial moment of learning, so we relentlessly support each young person through temporary failures, no matter how many times it takes.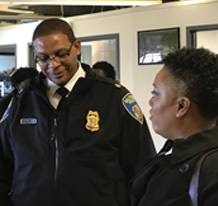 REWIRE THE SYSTEM
We relentlessly engage a vast array of police and other system partners to test new strategies, share critical information, and coordinate case management to improve outcomes for young people and the whole community.
I'm working on this now. I've failed like 10 times, but I'm gonna get it right. Roca helps me practice, and helps me help myself."
—Luis, Roca Springfield Participant
[Roca is] helping to change the community in Baltimore. The police officers' interactions with young people are totally different now. And some of those young men have changed—I saw this kid laugh and I'd never seen him laugh before."
—Major Lloyd Wells,
Baltimore Police Department