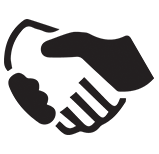 Volunteering at Roca brings our society one step closer to disrupting the cycle of poverty and incarceration. Enthusiastic and flexible volunteers change lives at Roca every day.
Volunteering at Roca
Roca is searching for energetic and compassionate volunteers with a sense of humor to work with our young men and young mothers. Volunteers work with Roca staff and participants in several areas, including HiSET/GED programming, ESL classes, parenting and child development classes, fitness and nutrition education, event organizing and many other possibilities. Roca offers a variety of engaging, fun, and gratifying opportunities which allow volunteers to interact with the inspiring young people we serve.
For the last nine months, Grant has spent his Tuesday afternoons meeting Chelsea, helping participants in the Young Men's program prepare for their HiSET (formerly GED). He found out about Roca while researching social justice organizations. Roca was an ideal organization for Grant, a Spanish speaker interested in immigration and criminal justice issues.
Grant's experience at Roca has been both trying and gratifying. Building trust with Roca's high risk young people takes time and a great deal of work. Success for Grant is when the participants ask to work specifically with him or ask about him on days he isn't volunteering, small indications that he is building relationships with these young men. 796
Read More
"It's impacted me because I get caught up in running businesses, the day to day in that world and then when I come in here it puts everything in my world into context."
— Grant Devine
To become a Roca volunteer, please contact Jen Garcin at Jen_Garcin@rocainc.com