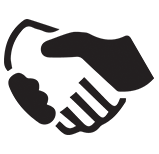 Volunteering at Roca brings our society one step closer to disrupting the cycle of poverty and incarceration. Enthusiastic and flexible volunteers change lives at Roca every day.
Volunteering at Roca
Roca is searching for energetic and compassionate volunteers with a sense of humor to work with our young men and young mothers. Volunteers work with Roca staff and participants in several areas, including HiSET/GED programming, ESL classes, parenting and child development classes, fitness and nutrition education, event organizing and many other possibilities. Roca offers a variety of engaging, fun, and gratifying opportunities which allow volunteers to interact with the inspiring young people we serve.
Interning at Roca
Interns are integral to our work at Roca. We look for team members who are mature with excellent boundaries, reliable, willing to learn and grow, flexible, highly self-motivated, and have a good sense of humor. Internship opportunities include teaching, job development, carpentry, culinary, fitness, digital and financial literacy, administrative support, policy and development research, and more.
To become a Roca volunteer or intern, please contact Jen Garcin at Jen_Garcin@rocainc.com