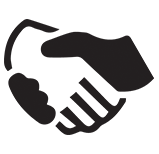 Being in the company of young people as they make tremendous changes in their lives is a remarkable privilege. Volunteering at Roca is an invitation to experience this unique privilege, move the needle on issues you care about, and learn how we prove that change possible.
Volunteering and interning at Roca
Volunteers and interns are integral to our work at Roca. We look for team members who are mature and flexible with excellent boundaries, reliable, willing to learn and grow, highly self-motivated, and have a good sense of humor. Opportunities include teaching and tutoring, job development, carpentry, culinary, fitness, digital and financial literacy, administrative support, policy and development research, ESL classes, event organizing and more.
Click here for our Volunteer & Intern Description.
Click here for our Volunteer Application.