Issue 5 | Summer 2017
Dear Roca friends, hello!
July is the beginning of the year for us – the fiscal year, but not only that. This is when we analyze our annual data, kick off new work plans, and start implementing our new-(fiscal)-year resolutions. It's time for reflection, and it's time for a fresh start.
In the coming months we will share with you some of our reflections. Among other things, we keep learning about the importance of data for our work – both our own data, and the government's criminal justice data we rely on. We also keep learning about the different risks our young people are facing, and in fact, we suspect that those risks are even higher than before. Stay tuned for more insights on this issue of elevated risk. Finally, we continue to learn about the power of partnerships, and how important it is to have a committed, loving, and relentless staff. They are true heroes.
In this issue of Roca Ink., we do a quick recap of our recent Annual Breakfast and Roca Springfield 7th Birthday Party. We also share with you an innovative policing and information sharing model called      Hub & COR that is already working in Chelsea, and a story of one of our most inspiring police partners, Detective James Slattery. Finally, we take another look at criminal justice reform – we believe that we have a real opportunity for a true change this year, and that raising the age of the juvenile court is our best bet for success.
Here are a few recent opportunities to learn more about Roca:
Have a great summer!
Molly Baldwin, Founder and CEO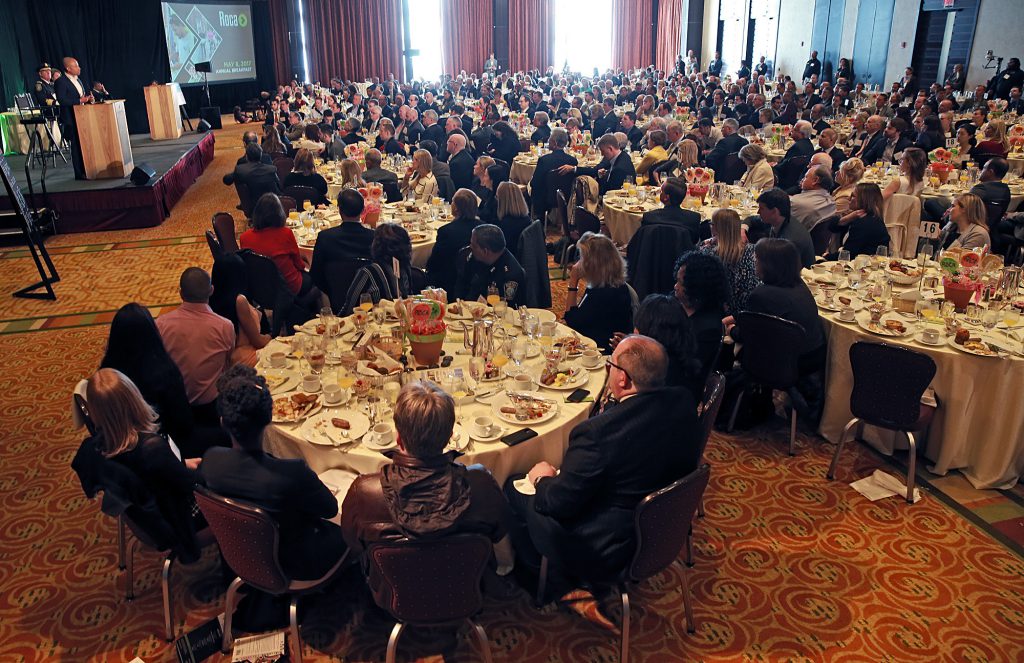 Roca's Annual Breakfast: The Charm of Being a True Pain in the Ass
We didn't quite expect it, but as it turned out, the theme of this year's Annual Breakfast quickly became how Roca can really be a pain in the ass. Our young people always say how annoying and persistent we are – and many of our partners agree. After we showed a video of them saying it in their words, our breakfast speakers couldn't help themselves: MassMutual CEO Roger Crandall said that he always thought they started the MassMutual Foundation to partner with organizations that are pain in the ass; Secretary of Housing and Economic Development Jay Ash, who has known us for years, claimed copyrights for the term, and the event's emcee, Suffolk Sheriff Steve Tompkins – well, he knows, we truly are a pain in the ass.
But that wasn't what it was all about: We were blessed this year to be joined by a tremendous group of leaders, partners, and supporters. Our lead funders, MassMutual, Bank of America, and Vertex, inspired us with their generosity and partnership. Our young people, Kerry Gutierrez and Manny Burns, who received this year's Vichey Phoung Award, inspired us with their courage. Their ability to make deep and meaningful changes in their lives is humbling.
And then there were our featured speakers. Attorney General Maura Healey, JustLeadershipUSA's Glenn Martin, and Chelsea Police Chief Brian Kyes shared with us the deep connection between leadership and change. In policing, incarceration, and immigration – perhaps the issues that impact Roca's young people the most – with the right leader, true change can happen. Each one of them is an inspiring leader in their field and beyond. They are true change makers.
Thank you all for joining us, your partnership, and your generosity!
If you're inspired by the work Roca is doing and want to be a part of it, donate to Roca today.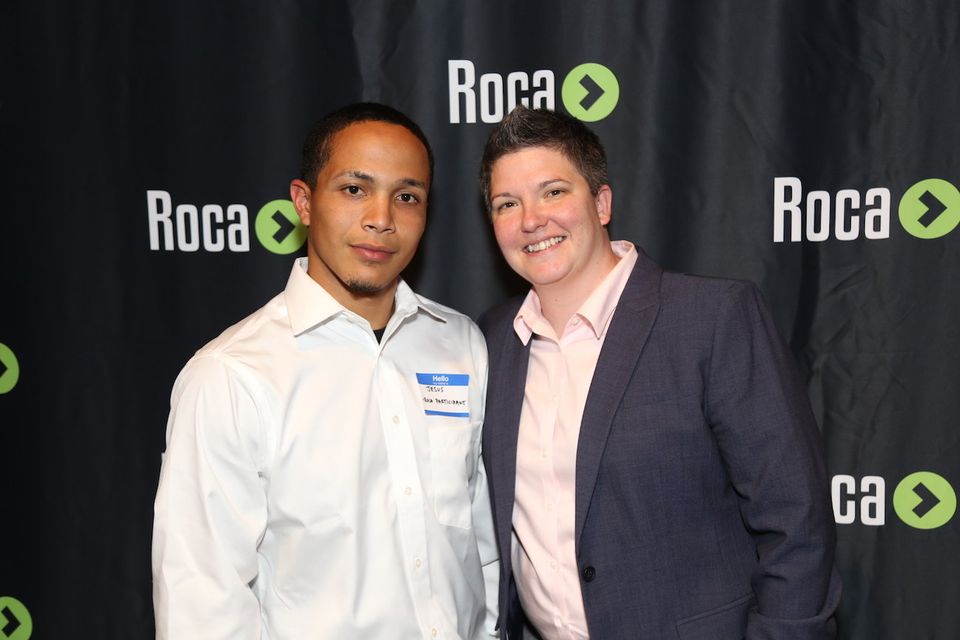 Roca Springfield Celebrates 7th Birthday
Seven years in Springfield? We can hardly believe it ourselves. Last month, Roca Springfield hosted its 7th Birthday Celebration at CityStage. We've certainly come a long way since our days at our two room office at the Hampden County Sheriff's Department, our first Western Mass home. With a tremendous group of friends, supporters, partners, inspiring young men and staff, we really feel there's a lot to celebrate.
Our 7th birthday was an opportunity to recognize key partners in the Western Massachusetts location's development and support over the last seven years. The group included Michael J. Ashe, Jan Callahan, Brian Elliot, Christine Judd, Brian Fitzgerald, and Frank Fitzgerald – each one of them has helped us beyond words. Jack Fitzgerald and Paul Doherty, two of our most inspiring and fondest supporters in Springfield, were both recognized posthumously. In a happy day like this one, we miss them even more.
"Roca gives us hope. Lots of people have given up on Springfield. But Roca is one more positive step forward in this community that is becoming more vibrant," shared our dear friend Frank Fitzgerald. Thank you, Frank, and thank you to all of our Springfield friends, for making these past seven years possible!
Springfield site director, Christine Judd, recognized two successful young men who have begun to turn their lives around; away from drugs and violence and toward a positive future. We're so proud of Jesus and Kelvin, as well as our other Springfield young men, in the strides their taking to improve their own lives. True to Roca's tagline, Chris said to the audience, "I truly believe we are not defined by our past, but by the moment we are ready, willing, and able to change." We're extremely proud of our Springfield team and look forward to seeing how they continue to serve Western Massachusetts' highest risk young people in the years to come!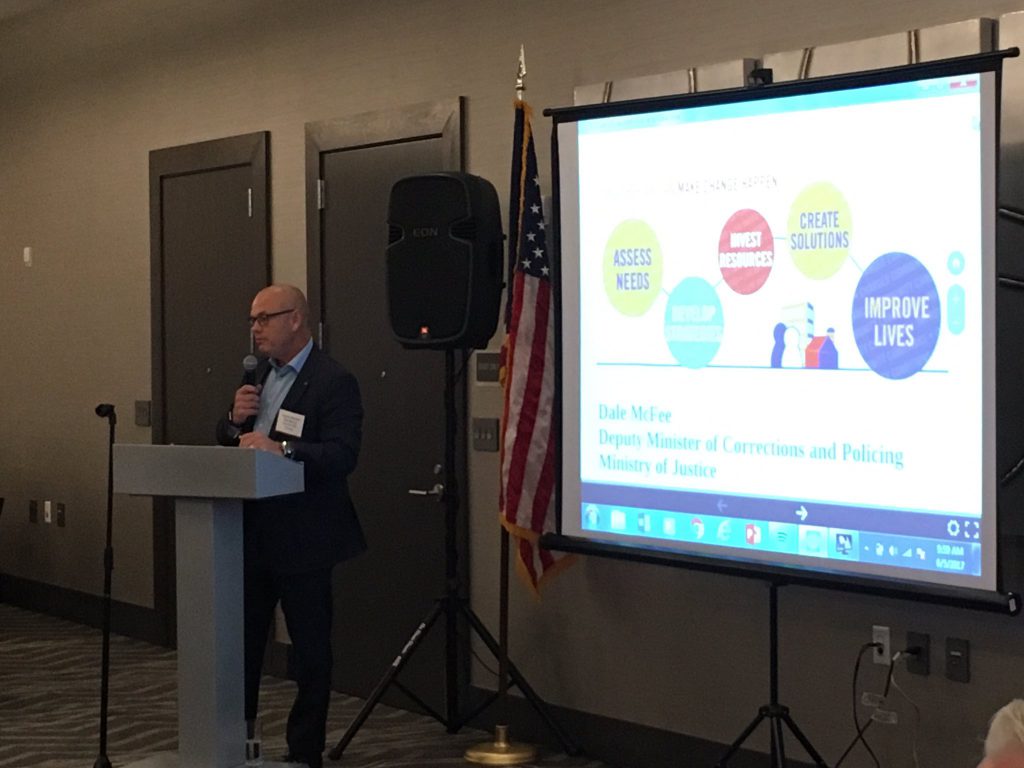 A New Approach in Policing: Hosting the Canadian Hub & COR Team
Two years ago, Roca helped bring to Chelsea one of the most exciting approaches to modern policing – the Canadian model called Hub & COR. Last month, the Canadian team came back to Chelsea to learn about the city's amazing progress over the past couple of years and train new teams from Worcester, Springfield, Revere, Everett, and Boston.
Hub & COR is an innovative model to help individuals and families in acutely elevated risk situations. Building on the police's role of protecting the safety of the community, representatives of multiple agencies in the community meet for a short, focused weekly meeting (the Hub) hosted by the police. Each agency brings to the table cases of individuals or families that meet the standard of acutely elevated risk. If the standard is met, minimal and necessary information is shared and the Hub members assign a leading agency that will conduct a "door knock" to address the family's needs. The COR builds on the Hub's strength, leading long-term community goals and initiatives.
Since 2015, the Chelsea Hub has completed more than 200 door knocks, built critical cross-agency communication channels, and helped the different agencies stop working in silos. Roca has been there from the first day – bringing the model to Chelsea, participating in every meeting, bringing to the table appropriate cases, and taking the lead on door knocks when it was the right fit.
We were so privileged to spend time again with our Canadian mentors, led by Saskatchewan Deputy Minister of Justice Dale McFee. They remind us time and again that with strong partnerships, smart use of data, true commitment to helping our most vulnerable neighbors, and no excuses, there are real reasons to be hopeful.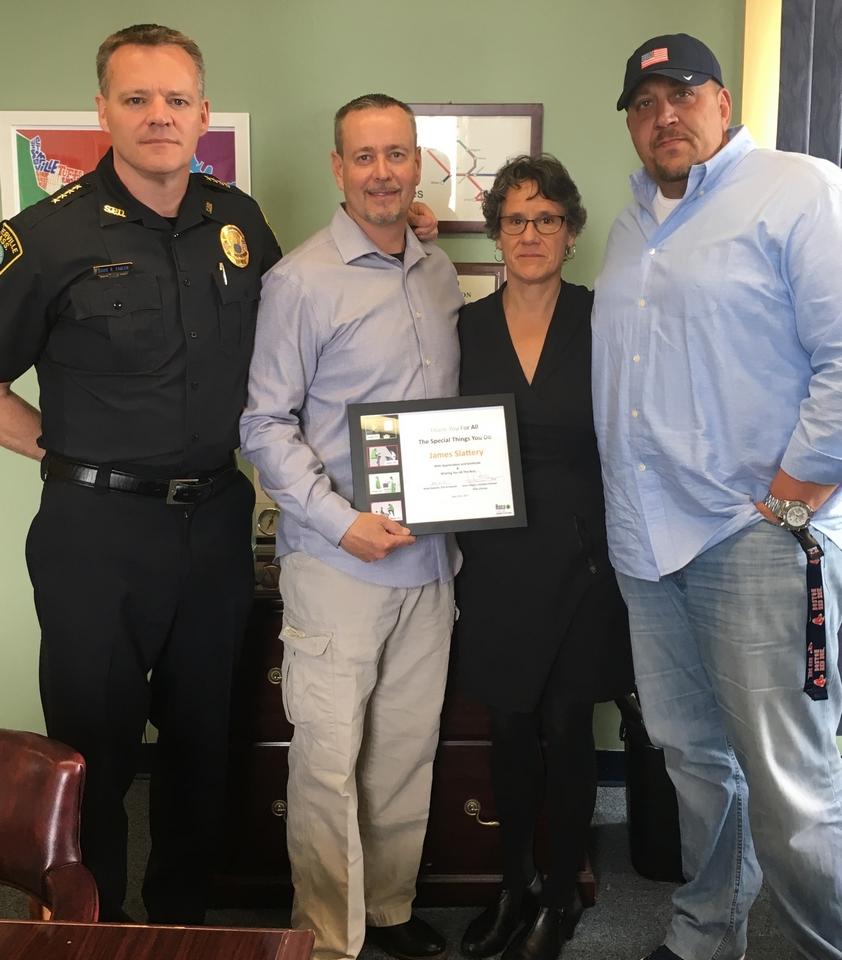 Roca Recognizes Somerville Police Department's James Slattery
Police partners are key to our success, but when the partnership gets to the point where we knock on doors together, we can truly change the world. One such case is our work with Detective James Slattery of the Somerville Police Department. When Somerville Police Chief David Fallon assigned him to be Roca's liaison, it was new for him and us. Two years later, we can't believe there were times when Jimmy wasn't a Roca partner.
In a recent conversation, we asked Detective Slattery about his experience of coming to Roca as a cop. Interestingly, he mentioned not only our joint efforts to do outreach together, but also his experience of just being with us here. "To see someone like me in the building on a regular basis, over the course of time these young men become more comfortable. I've even had a few ask me to step outside to ask me questions no one else could answer."
Over the past couple of years, Detective Slattery has gone above and beyond for the young people at Roca, and for the safety of his own community. Sitting in circles, participating in classes, working with partners and answering any questions, Slattery is helping us all understand what real commitment to safety, to strong community and to young people can look like. "Detective Slattery is remarkable. His work truly changes the lives of young people in Somerville and beyond. With his participation, dedication, and hard work, we are able to break down barriers and build a new kind of relationship between police and the young people in our local communities, and create a new understanding between both parties that maybe was not there before," said Molly.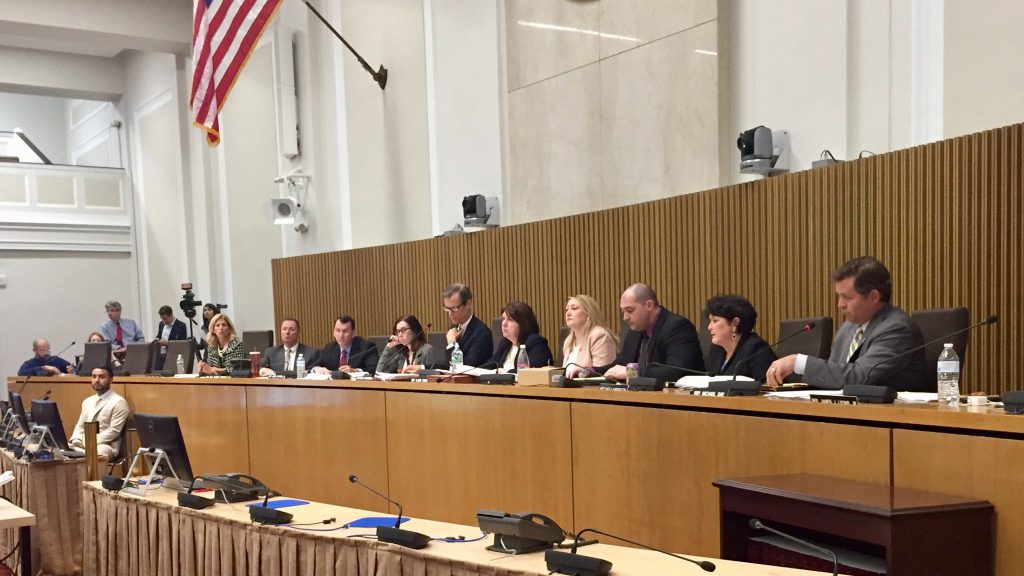 Want to Reduce Recidivism? Raise the Age.
While the legislature continues to consider criminal justice reform, there's an emerging focus on recidivism: what would help people stop coming back to the criminal justice system? As everyone seems to agree that recidivism is highest at the group of young adults (ages 18-24), we believe that raising the age of the juvenile court to 21 is our best bet.
Massachusetts' juvenile justice system is one of the best in the country. Both DYS and the juvenile court are experts in individualized approach to each case, focus on education and rehabilitation, and regularly connect young people to services that help them stay out of harm's way and succeed. The science and experience on the ground are clear that young adults are still developing, growing and changing. Instead of processing them at the one-size-fits-all adult system and adult jails – systems that keep producing the worst outcomes – this is the time to focus on solutions that work.
As mentioned by our friend retired Judge Nancy Gertner in a recent Boston Globe op-ed, Harvard Psychology Professor Joshua Buckholtz put it this way: "If an evil genius scientist were hell-bent on using the most up-to-date neuroscientific insights to make youthful offenders more impulsive, aggressive, and antisocial, he could do no better than the adult prison: constant uncertain threat, being disconnected from communities, subject to long periods of social isolation, a regimented life that undermines their ability to learn to plan. He would break their ability to associate 'good' behavior to future beneficial outcomes — a trait necessary for them to begin to envision a different life for themselves — by limiting access to meaningful occupational training and education while imprisoned, and/or ensuring that their occupational opportunities are impaired once released."
We couldn't say it better. If we want better outcomes, let's start with policies that make sense. The four bills in front of the legislature that propose to raise the age to 21 would be a huge step forward.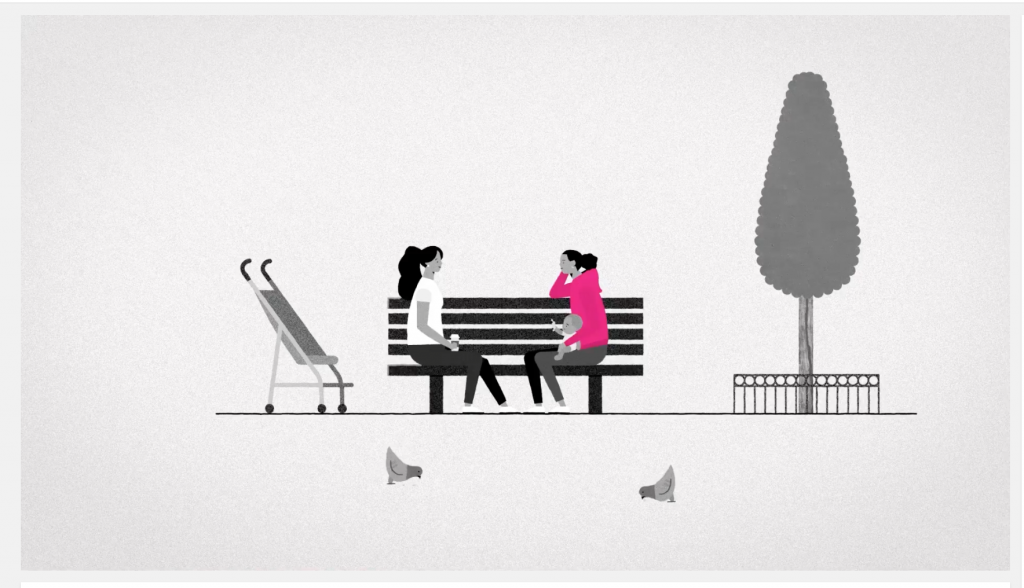 New Animation Video: Roca's Young Mothers Program!
Here's a new video to watch! We've been working with young mothers since Roca's first day, almost 30 years ago. Since then, our work with young mothers has become laser-focused: we serve the young mothers who are so high-risk, that they wouldn't even open their door when help is offered. We believe that those high-risk young mothers and their babies can have stable, safe, and amazing lives, and that with the right approach, they too can accomplish all their dreams. This new video explains just that.
Roca extends a special thank you to some generous donors for giving in this quarter!*
Bank of America Charitable Foundation
Beveridge Family Foundation
Bushrod H. Campbell and Adah F. Hall Charity Fund
Commonwealth Corporation
MA Department of Public Health, Bureau of Community Health and Prevention
MAXIMUS Foundation
Moses Kimball Fund
People's United Community Foundation
REDF
TD Charitable Foundation
United Way
*All this in addition to the generous foundation, individual, and corporate support over the last quarter.