Roca's programing meets young people where they are, cognitively and behaviorally. All of Roca's programming is designed to withstand the comings and goings of high-risk young people who have failed in traditional learning environments.
Our life skills, educational, and employment programming are offered in various informal and formal structures, from repeat drop-in sessions to full certificate courses. This allows young people at varying stages of readiness to learn critical skills as they progress through the Intervention Model.
Even by taking a single class, young people start experiencing what it is like to do an action that advances themselves. These experiences help them gradually move from not contemplating change to planning for change an acting towards it. Over time, Stage-Based Programming expands participants' skill sets considerably and keeps them moving forward.
Roca's programming focuses on three core areas: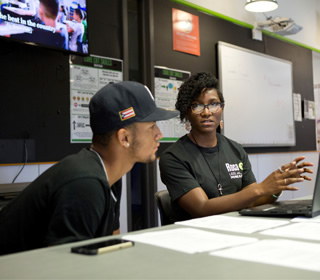 Education
Roca offers HiSET/GED classes, taught in a flexible curriculum, in 1-on-1 sessions or in small groups.
All classes are adapted to participants' level and learning disabilities, including basic literacy classes if needed. ESL classes are offered.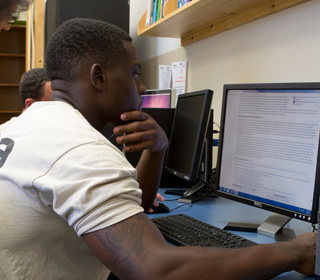 Life Skills
Roca has developed a Cognitive Behavioral Theory (CBT) curriculum in collaboration with Community Psychiatry PRIDE Clinic at Massachusetts General Hospital/Harvard Medical School. Our CBT curriculum addresses the specific needs of high-risk young adults, teaching them how to "think different to act different". CBT allows our young people to develop emotional literacy and overcome behavioral barriers so they can build skills and live fuller lives. The curriculum consists of 10 skills, deliverable in classrooms, in the car, on the street, or wherever the need arises, through short sessions of up to 30-45 minutes. In addition to CBT, life skills programming includes substance abuse groups, healthy habits classes and parenting classes.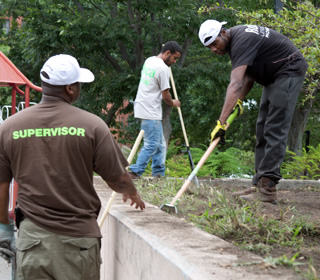 Employment
The key piece of Roca's employment programming is a Transitional Employment Program, in which participants join Roca's work crews and earn real wages while learning basic work skills. In addition, Roca offers workforce readiness curriculum, pre-vocational training and job placement and retention services. Most of Roca's young people have no employment history and criminal records, factors which limit their employment opportunities considerably, so job readiness and placement are crucial to participant's success.