Issue 9 | Winter 2019
Dear Roca friends,
Happy New Year!
2018 has been a year of new beginnings and milestones. We opened up our new site in Baltimore, expanded our work in Western Massachusetts with a new Holyoke location and a pilot of the Young Mothers program, celebrated 5 years of Roca Boston, and kept growing, developing, and learning.
And of course, we turned 30!
Going into the new year, we have our young people in mind. Sadly, the winter, and especially the holiday season, are often difficult, cold, and lonely for them. But we know that thanks to our partners, staff, and volunteers – and thanks to all of you – they have real reason to believe that the new year will be different: safer, surrounded by strong relationships, and full of hope.
We feel so privileged to know so many young people and be in their lives, and so blessed to continue doing such important work this year! Thank you for being a part of real change.
Have a great year,
Molly Baldwin
Founder & CEO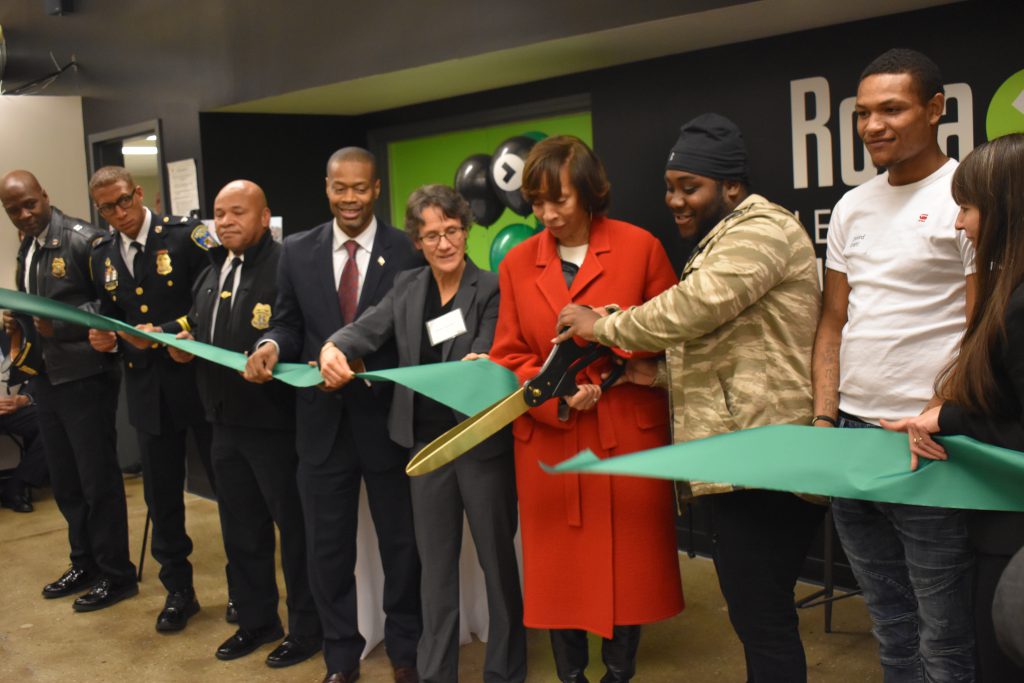 ROCA BALTIMORE HOSTS COMMUNITY FOR OPEN HOUSE
Roca Baltimore is now open! In November, Roca hosted Mayor Catherine Pugh, Baltimore Police Commissioner Gary Tuggle, local law enforcement, city officials, and community leaders at an open house of our 880 Park Ave location.
It has been our privilege to bring together so many of the friends, partners, and supporters who have made Roca Baltimore possible. Since July, our Baltimore team has been on the streets knocking on doors to reach some of the city's highest risk young men. Over 60 of them are already enrolled in Roca, and we expect to enroll over 100 in the first year and go beyond 300 over the next three years.
At the open house, we shared our video highlighting the Baltimore team and underscoring our mission: we're here to work hard—both with our partners and with young people.
In coverage of the event, The Baltimore Sun shared the progress Roca has made so far, capturing the day to day work that goes into relationship building, and ultimately, changing lives of young people.
Find photos of the event here and stay tuned for more updates on our Baltimore page!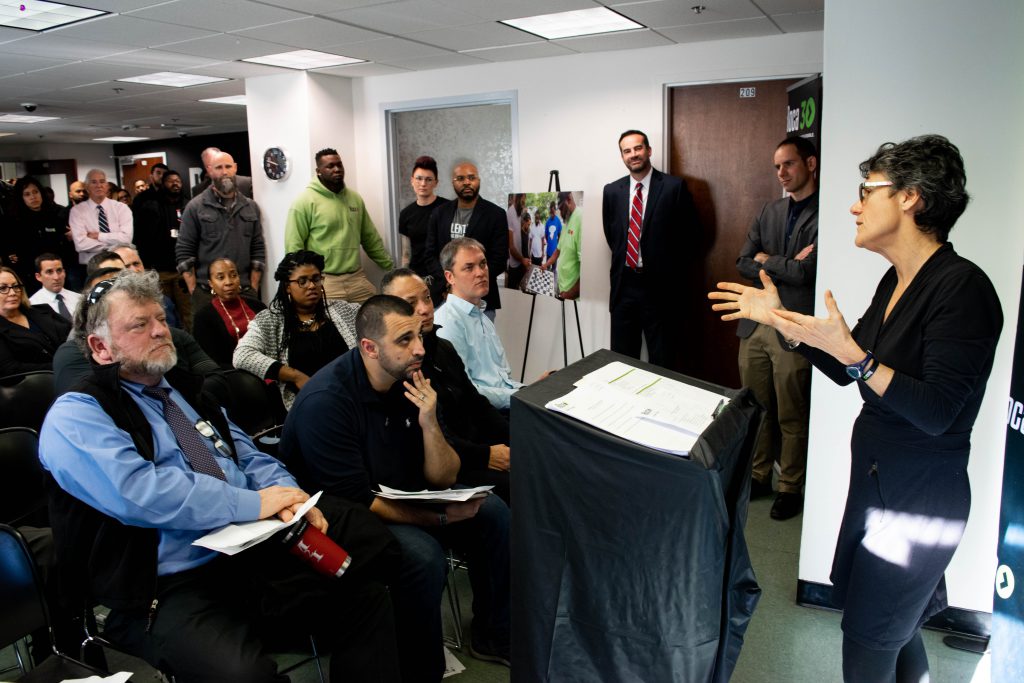 FIVE YEARS OF ROCA BOSTON
We can hardly believe it ourselves, but Roca Boston is five years old. We were joined by many of our partners, including Suffolk County Sheriff Steve Tompkins, DA elect Rachael Rollins, and city and law enforcement leaders for breakfast and an update on the work being done in Boston earlier this month.
Those in attendance heard from our relentless youth workers who shared their approach to implementing the Roca model and their experience in reaching young people. We shared some of our recent lessons on reducing violence in the city, questions we're still grappling with, and some of our earlier successes, too.
As we reviewed the data from past five years, it was humbling to realize we've already served 389 very high-risk young men in the city of Boston. 113 of them have already been enrolled for over two years, with 93% avoiding new incarcerations, 76% avoiding rearrests, 72% placed in jobs, and 53% holding jobs for over 6 months. We have a lot more to learn, but these are promising results for our first years in the city.
We know we couldn't do this work without our community partners – conversations – like these help us better serve our young people. Thank you all so much!
Find more photos of the breakfast here!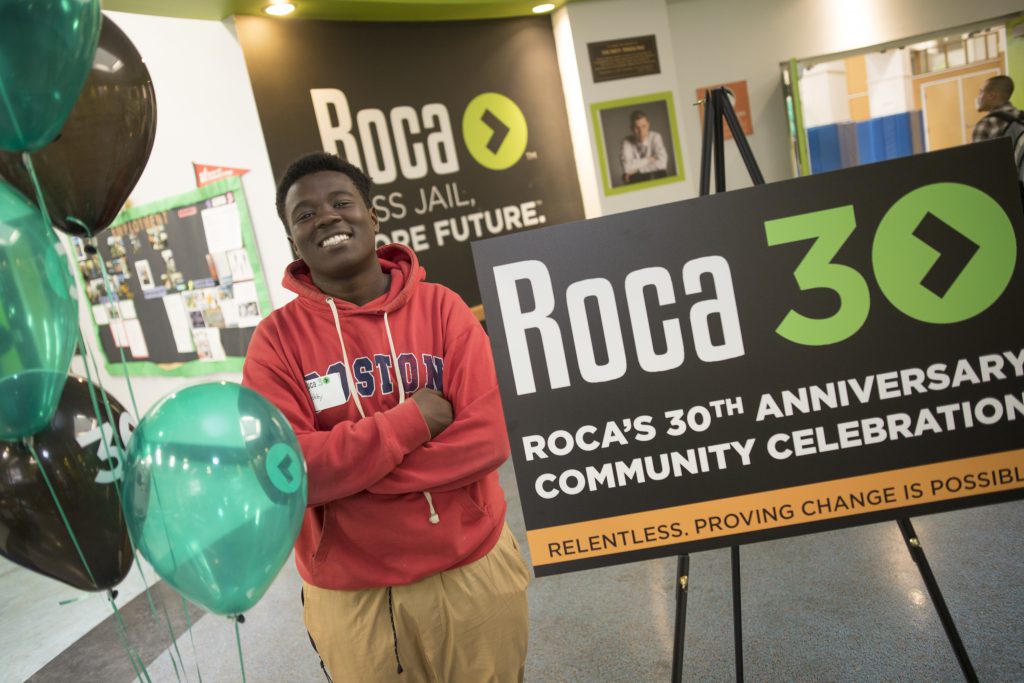 ROCA'S 30TH ANNIVERSARY COMMUNITY CELEBRATION
Roca turned 30 this year, and in October, participants, staff, alumni, partners and local leaders came together to celebrate Roca's deep impact over the last three decades.
"I am in awe of all of you and all the young people we have met and had the honor of working with for the last 30 years, and all of the Roca team, our partners, and this community who made all this relentlessness possible," said Roca Founder and CEO, Molly Baldwin, at the event.
We honored our Roca30 Unsung Hero Awardees including Massachusetts Senator Sal DiDomenico, Probation Commissioner Edward Dolan, Youth Services Commissioner Peter Forbes, Boston Police Captain Haseeb Hosein, Chelsea Police Captain David Batchelor, Hampden County First Assistant District Attorney Jennifer Fitzgerald and Kim Hanton, Director of Diversionary Addiction Services at North Suffolk Mental Health Association.
The most special part of the evening came when Roca also honored seven youth participants as Unsung Heroes as well – seven young people whose lives have been upended by Roca's relentless outreach, its transformative programs and its many partnerships.
Those young people are:
Joseph Acosta
Caralis Rosario Hernandez
Dakwam Johnson
Ana Meia
Amauris Melendez
Gage Morrow
Dennis Rodriguez
Featured speakers at the event were Jay Ash, Secretary of Housing and Economic Development under Governor Charlie Baker, Harry Spence, the former Receiver of Chelsea and Massachusetts Court Administrator, and Eric Rodriguez, a founding Roca youth member and Lead Pastor of The Way Church.
We want to thank the community, our partners, and allies for making such a difference in young people's lives. Find our video of what relentless means to us here.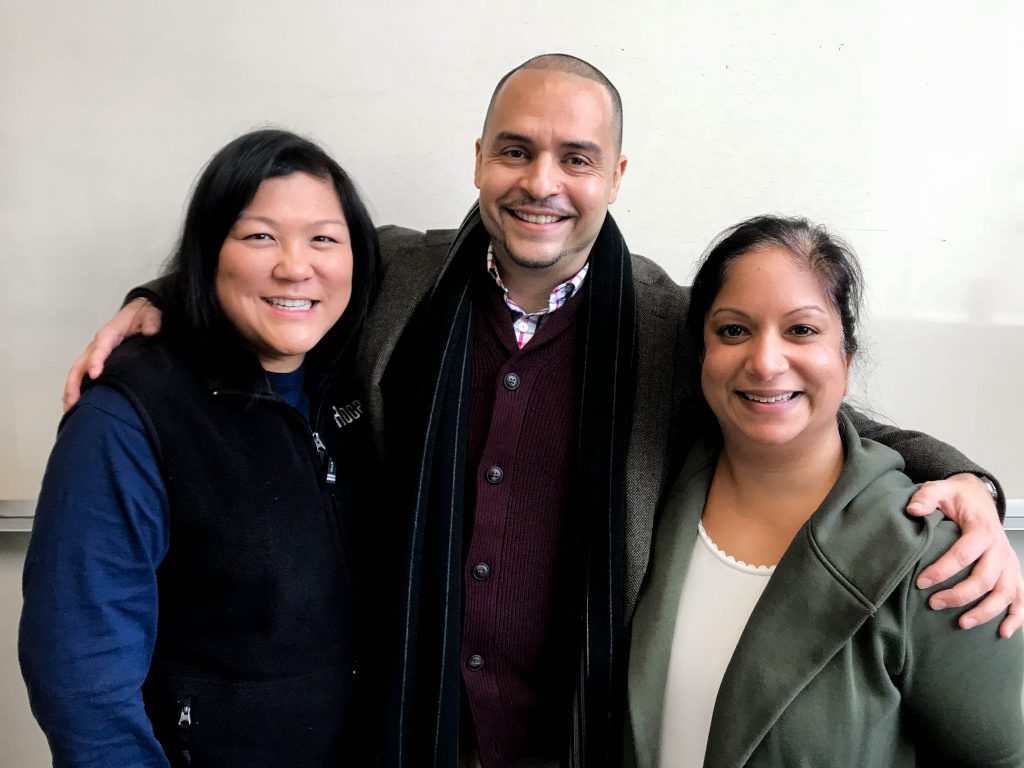 NEW FACES AT ROCA
We're excited to introduce a few recent additions to the management team!
Meet Sunindiya Bhalla, Carl Miranda, and Patty Wilkenson:
With more than 12 years' experience launching and leading high-impact early childhood initiatives, Sunindiya Bhalla joins us as Chief of 2Gen Programming & Strategy. She is responsible for further developing, implementing, and scaling Roca's Young Mothers Program and raising its profile nationally as a model Two Generation program. Sunindiya graduated from Tufts University with a B.A. in Child Development and a Master's in Public Health. She also holds an MBA in Nonprofit Management from the Heller School of Social Policy at Brandeis University.
Carl Miranda, Director of Roca Boston, brings 10 years of nonprofit experience working with state agencies. As a Salvadoran immigrant who spent his formative years in South Central Los Angeles in the 1980's, and as a professional who has worked for many years in urban environments in front-line and management capacities, he understands the kind of struggles that young adults face in urban environments with poverty, trauma, and challenging relationships with law enforcement. Carl holds a BA from UC Berkley in Ethnic Studies and Rhetoric, a Masters in American Studies from NYU, Masters in African American Studies from Yale, and is ABD at Yale University.
As Roca's new Director of Human Resources and Talent Management, Patty Wilkenson brings to Roca her extensive knowledge in all areas of Human Resources Administration across the non-profit and for profit industries. She previously served as Director of Human Resources with YouthBuild USA and Director of Stores with Morgan Memorial Goodwill Industries and holds a Bachelor's Degree in Biology from Clark University in Worcester, MA.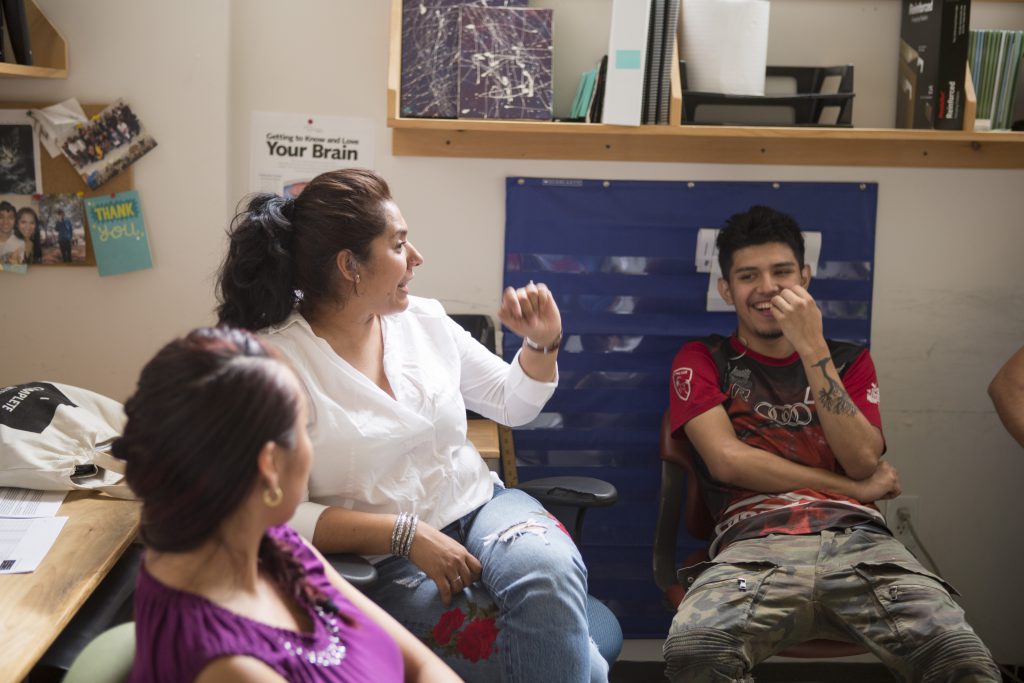 ROCA YOUTH WORKER VICTORIA RAMIREZ MORALES WINS 2018 VERONICA AWARD
And the Superstar Foundation's award for using data to improve outcomes for young people goes to… Roca Youth Worker Victoria Ramirez Morales from Roca Chelsea! Congratulations, Victoria!
Each year, the Superstar Foundation searches for direct service staff who use data in their day to day work with underserved individuals and communities. Our own Victoria, who works with Central American Youth at Roca Chelsea, is an amazing example of this work.
Her no-nonsense approach and relationships with participants' families and community partners has solidified her as a professional and expert in youth work. Victoria has maintained a minimum caseload of 23 participants, with Contact and Programming standards that exceed those of her peers. Her ability to juggle her caseload while simultaneously running programming off-site, both for her participants and for other young people as part of an agreement with a partner organization, demonstrates her dedication to all young people. While maintaining an average of exceptional contact and program standards, Victoria has been a consistent role model for getting her work done. On top of all of this, Victoria does it all with a smile, bringing the kind of positive light and energy to her young people, her peers, her team, and the partners that it takes to stay at this kind of work with young people day in and day out.
Victoria uses data on a daily basis to manage her caseload. Victoria is excellent at using all of the data during times when a participant is in relapse to understand patterns of behavior and identify what has or has not worked previously to inform her strategy to support that young person. She consistently comes to supervision with her data and, as a result, is prepared to have discussions with her supervisor on where her young people are in the model, what support she needs, and what she needs for others to move. Her attention to detail and her young people is shown through her steadfast numbers that she produces weekly.
The young people on her caseload are lucky to have her, and we're lucky to learn from her every day!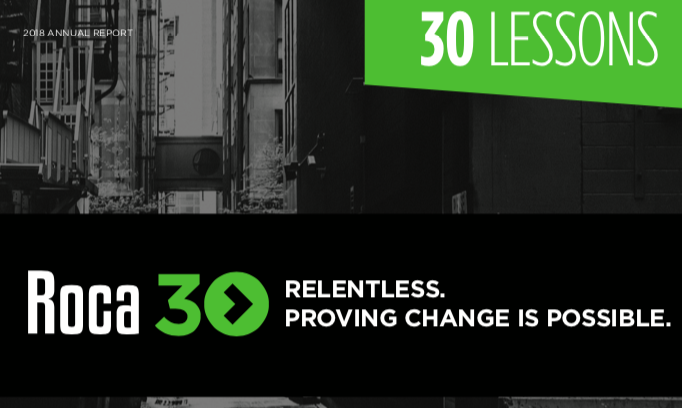 ANNUAL REPORT: 30 YEARS AND 30 LESSONS
For our 30th anniversary, we gathered 30 of the most important lessons we've learned over the years. Our annual report allowed us to reflect on the path that brought us here – our foundational beliefs, our everyday work with young people, how we believe change happens, and what it takes to making it all work.
Our journey is one of learning. Committing to serve young people who aren't ready for change means that we always need to seek new solutions, ask hard questions, challenge our own thinking, and find opportunities to do, feel, and think differently. These 30 lessons are the outcome of many mistakes, do-overs, and realizations we had over 30 years of serving young people.
We invite you to learn together with us, and keep teaching us in the next 30 years!